Guacamole Cabbage Wrap – DOWNLOAD PDF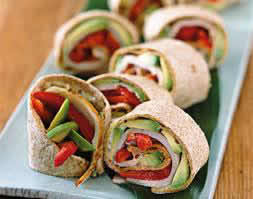 Guacamole, Cabbage and Hummus Wrap
Looking for something quick and different for lunch? Try this!
Ingredients:
100 calorie package of guacamole (look for this in the deli section of the grocery store)
1 Tb. Hummus
1 Tb. red onion, chopped
½ cup red cabbage, shredded
1 8-inch whole grain tortilla (make sure to look for those that are lower in sodium
Procedure:
1. Spread the guacamole and hummus on the tortilla.
2. Top with red onion and cabbage.
3. Roll to make a wrap.
Nutrition information per wrap: 265 calories, 23 grams of carbohydrate, 18 grams of fat (healthy fat) and 350 milligrams of sodium
Enjoy!